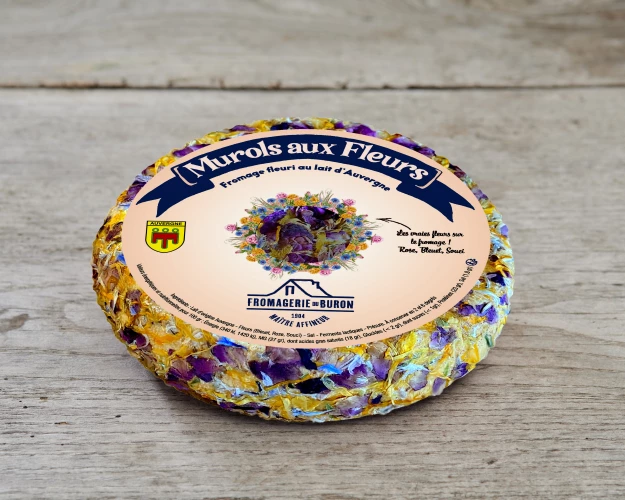 Murols aux Fleurs
Our Flowered Murols s a Murols cheese with a twist... We age it with local and edible flowers! This uniqueness gives this fragrant cheese a colorful appearance but most importantly, a unique and particularly pleasant spring aroma.

Its texture is soft and ivory yellow in color, and in the mouth, one can distinguish hazelnut flavors in addition to floral notes.
Our

technical sheet
Ingredients
Originating from Auvergne milk – Dried flowers (Rose, Marigold, and Cornflower) – Salt – Lactic ferments (1%) – Calcium chloride (0.05%) – Rennet (0.02%)
Label
High altitude milk "Lait de Montagne"
Paste
Soft texture, yellow color
Size
A cylinder with a diameter of 12cm and a central hole, approximately 4cm in height. Weighs between 450 and 600 grams.
Wine pairing
A fruity red wine from the Côte du Rhône or a white wine from Savoie