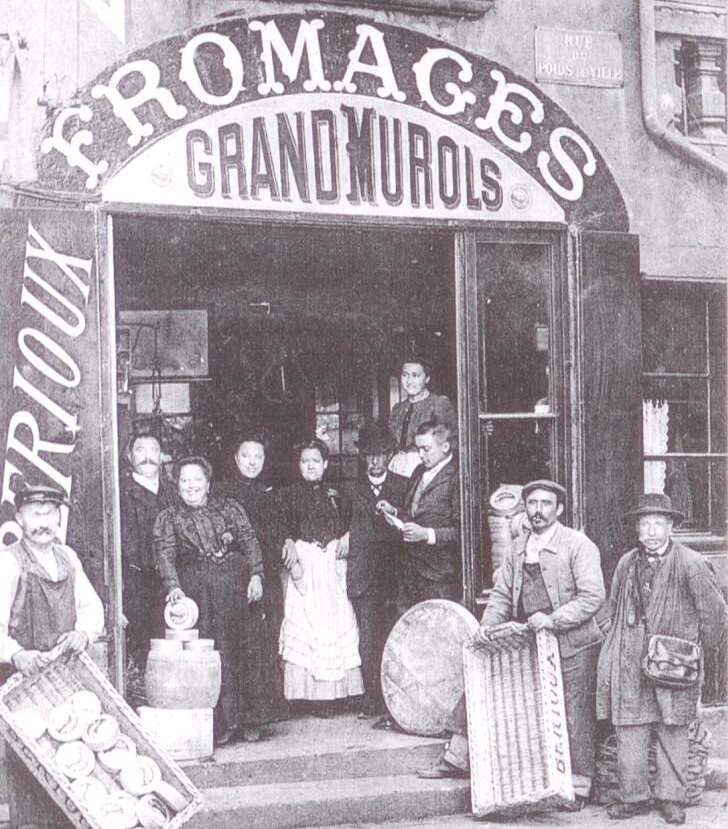 A century of history
Pierre Dischamp: Guardian of a century of cheese-making & affinage know-how
A know-how that goes back to Pierre's grandfather, Jean Dischamp, son of a farmer, who arrived in Clermont-Ferrand in 1904 and opened his cheese shop specializing in the affinage of Saint-Nectaire in 1911. Did he think at that time that three generations later, his grandson would continue the adventure?
However, this is indeed the case! After working with his brothers at his father Paul Dischamp's cheese factory, Pierre became independent in 2009, split the Fromagerie du Buron (formerly "Fromagerie du Grand Murols") from the group and decided to refocus in the activity launched more than a century ago by his grandfather Jean: the affinage of Saint-Nectaire.
Our DNA? Affinage of Saint-Nectaire
120 years of experience and not a wrinkle! Although we have moved away from the time when Jean Dischamp aged Saint-Nectaire in cellars dug under the Cathedral of Clermont-Ferrand, the passion and know-how are deeply rooted in our family.
The affinage of a Saint-Nectaire du Buron begins at 5-7 days when it leaves the farm of our producers and crosses the threshold of our buried cellars for a retreat far from any agitation. It is there, for several weeks, that it will be the object of special attention from our Master Cheese Ripeners. Brushed, salted, washed, probed, turned, sometimes matured in several cellars at different temperatures, the Saint-Nectaire du Buron will pass up to 15 times between the hands of our Master Cheese Ripeners. Thanks to time, the atmosphere of the cellars, our daily care, and our know-how, each Saint-Nectaire that comes out of our cheese factory is a delight for your taste buds.
We are also Producers
In 120 years of existence, we have transcended this Affinage know-how to cheese production. We make the Grands Murols and its derivatives (Le Buronoix, a Murols matured with -liqueur awarded at the Concours Général Agricole, Murols with Flowers, Murols matured in Saint-Nectaire cellar, etc.) as well as a wide range of cheeses made with passion in our dairy factory in Creuse.
A family success story that continues
The passion that drives the Fromagerie du Buron is far from extinguishing! Pierre Dischamp's eldest son, Alexandre, who has been immersed in Auvergne cheeses since a young age, is already working alongside his father to continue this beautiful family history.
Our history

Master Cheese Ripener since 1904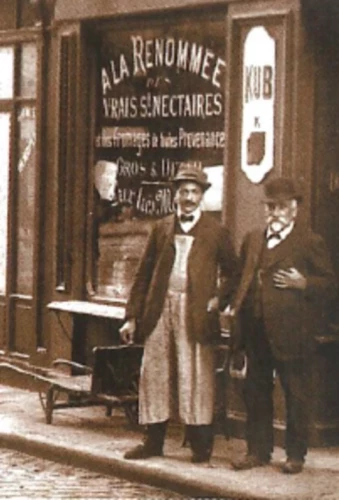 1904
Jean Dischamp, the son of a farmer and grandfather of Pierre Dischamp, moved to Clermont-Ferrand in 1904 and in 1907 opened a shop "À la renommée des vrais Saint-Nectaire" on place Hippolyte Renoux. He specialised in the ripening of Saint-Nectaire in the volcanic tuff cellars located under the Clermont-Ferrand cathedral !
1913
Bérioux-Boularand patents a "double Saint-Nectaire" with a hole in the centre to speed up ripening: the Grand Murols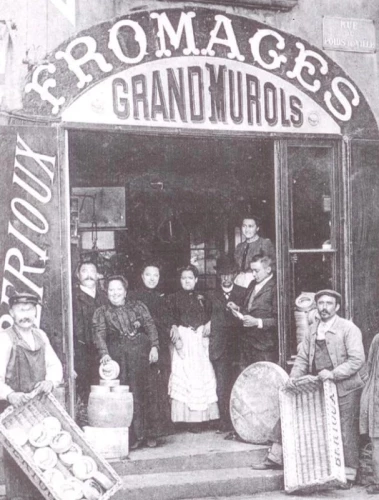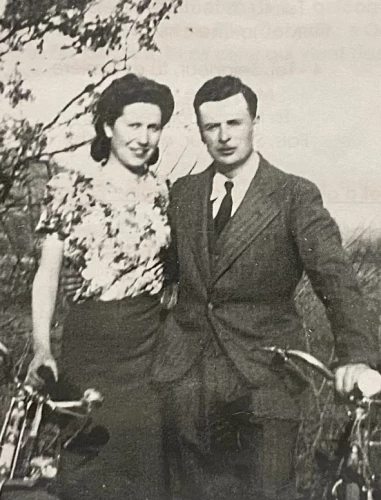 1941
The father of Pierre Dischamp, Paul Dischamp, took over his father Jean's business and moved his activity to Sayat, on the site of the Grande Laiterie d'Argnat created by his father-in-law Pierre Bonjean (Paulette's father !) in 1921
1990
Pierre Dischamp joins his brothers and mother Paulette at Paul Dischamp, the family business, where he holds the position of CEO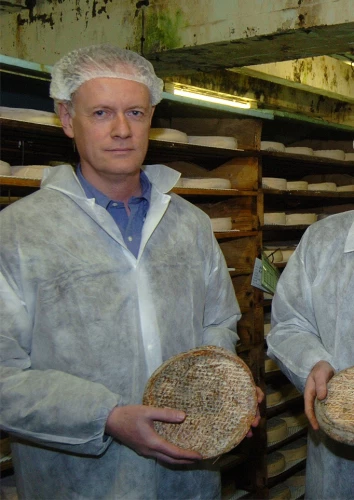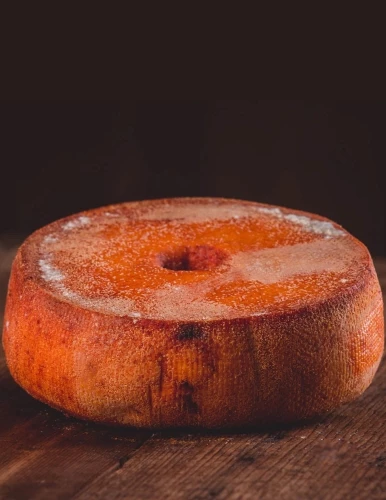 1993
Acquisition of the Bérioux-Boularand company and its famous Grand Murols
2009
In search of specialization and authenticity, Pierre Dischamp splits Fromagerie du Buron (formerly "Fromagerie du Grands Murols") from the Paul Dischamp group. Fromagerie du Buron specializes in the ripening of Saint-Nectaire, the historical activity launched by Pierre's grandfather, Jean Dischamp, as well as in PDO Auvergne cheeses and Grand Murols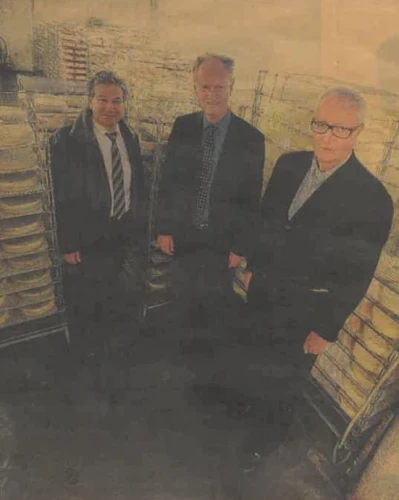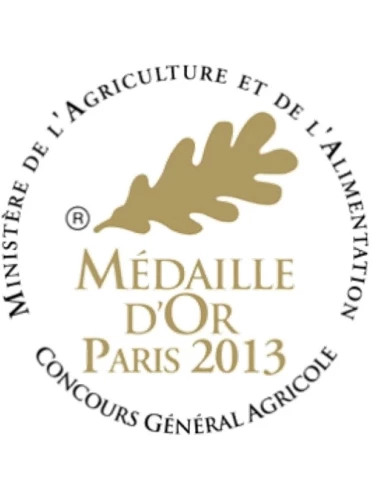 2013
First gold medal at the Concours Générale Agricole for the Fromagerie du Buron and its Saint-Nectaire fermier
2017
Pierre Dischamp takes over the Laiterie de la Voueize, in Creuse, which specialises in the production of cow's and goat's milk cheeses and ultra-fresh products (yoghurt, cream, etc.)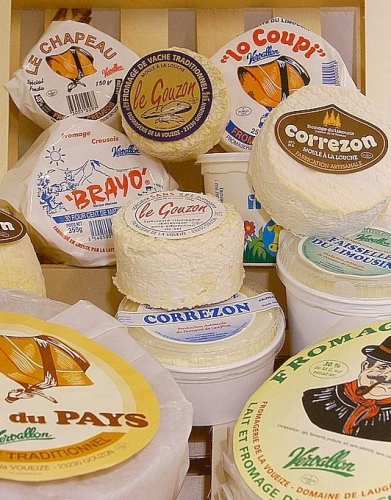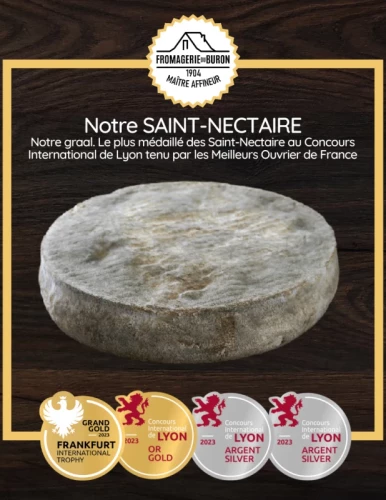 2023
2 Gold and 2 Silver medals for our Saint-Nectaire Fermier at the Lyon and Frankfurt 2023 International Competitions. Pierre Dischamp is extremely proud to see the work carried out with our farm producers being rewarded at competitions run by the Best Craftsmen in France and internationally!
2023
The 5th medal of the year! Our latest innovation wins a Silver medal at the Concours Général Agricole 2023. Our Buronoix is a Murols with a twist.... we mature it with walnut liqueur, in our underground cells right next to our Saint-Nectaire