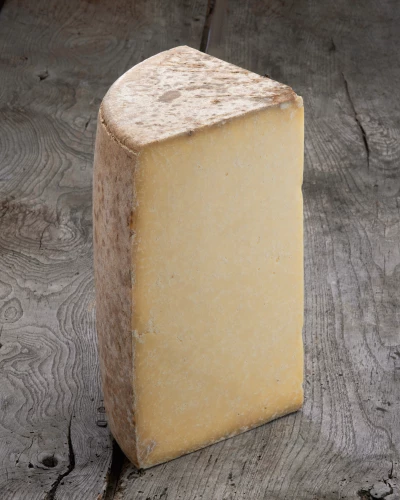 Cantal


Born on the volcanic pastures of Puy Mary (Europe's highest stratovolcano) in Cantal and crafted from raw cow's milk, this uncooked pressed cheese undergoes two pressings and meticulous salting.

It's a heavyweight! It takes the form of an imposing cylinder, measuring 36-42 centimeters in diameter and weighing over 35-45 kilograms. To create an average wheel of 40 kilograms, no less than 400 liters of milk are required!

Upon tasting, Cantal reveals a range of sensations that evolve with its aging process. Young Cantal, aged for 30 to 60 days, offers a mild, fresh, and milky flavor, ideal for those who prefer a delicate experience. In contrast, "Entre Deux," aged for 90 to 120 days, presents more pronounced flavors, striking a subtle balance between intensity and refinement. For those seeking bold sensations, "Cantal Vieux," aged for at least 240 days, unveils powerful, spicy, and robust aromas, delivering a complex and hearty gustatory experience. Each stage of aging provides a unique experience to satisfy all palates.
Our

technical sheet
Ripening
Cantal jeune: 30 to 60 days – Cantal entre-deux: 90 to 210 days – Cantal vieux: Minimum 240 days
Size
Cylindrical. Diameter: 40cm – Height: 40cm – Weight: c.40kg
Wine pairing
The Boudes vineyard and Cantal both share the common feature of being producible in Puy de Dôme, so we recommend a white wine from this vineyard to enjoy with your Cantal!
Packing
Full wheel, 1/2, 1/4 or 1/32
Paste
Ivory color. Firm and creamy texture, evolving from a slightly grainy density to velvety smoothness depending on its aging