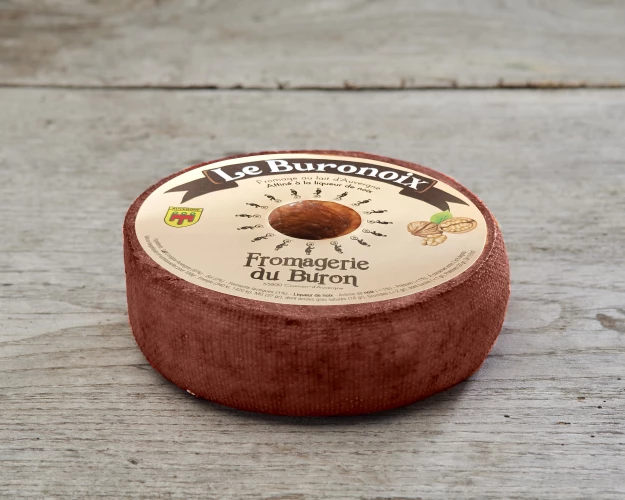 Buronoix

Our Buronoix is a reinterpreted version of Murols, aged with walnut liqueur in our underground caves located right next to our Saint-Nectaire cheeses.

Its yellow-ivory paste is very soft and creamy, with an optimal heart-ripening thanks to the cheese's central hole. During its aging process next to our Saint-Nectaire, the Buronoix develops notes of hazelnut, cream, and butter that enhance its nutty flavor, highlighted by its melting texture in the mouth.

Depending on the duration of aging, we can also obtain floral or fruity aromas that enrich the taste palette of our Buronoix, aged according to the specific preferences of our clients.

This new creation has won a silver medal at the 2023 General Agricultural Competition!
Our

technical sheet
Ingredients
Milk – Salt – Lactic ferments – Rennet – Walnut liqueur – Walnut flavor – Caramel coloring
Size
Diameter: 12cm, with a central hole – Height: c.4cm – Weight: 450-600g.
Wine pairing
A dry red wine from Côtes d'Auvergne Madargues will be perfect to complement the roundness flavor of the Buronoix
Label
High altitude milk "Lait de Montagne"